Triphyllas, Interspecies Hybrids and their low estimated breeding and garden potential
There has already some time passed since Plumier the fuchsia which has been discovered originally in the Caribbean area has been rediscovered by British botanists and shipped to Britain.
Those of you who have a look into the registration lists of AFS will not find many hybrids of the triphylla among the more than 15,000 entries there. Why is there a lack of interest in Triphyllas cvs? The wild species and the resulting hybrids of the past decades offer the breeder an interesting pool of properties.
They are roughly more compatible to sun than most of today's large bloomed fuchsia varieties and also produce at higher temperatures in summer abundant counts of flower buds.
Unfortunately, however, they react to cold temperatures a little more sensitive than so many other fuchsia species and hybrids.
They have usually long tube with a shortened calyx and petals. The flowers themselves are produced in the internodes section in flower clusters and do not get paler in blazing sun so fast. Fuchsia grower, who the right ambient in bright hibernation may also enjoy blooms in the winter months. Thats why those plants have been so popular in Victorian times.
Carl Bonstedt might have recognized that potential at the beginning of last century when he started breeding Triphylla fuchsias with other available wild species.
Thus, under his hand, crosses between F. triphylla, F. Boliviana, F. fulgens and F. splendens have been made - and most crossings have always a variety Triphylla as one parent. The color of the developed hybrids ranges from orange-red to darker pink. The dark foliage contrasts the hanging flower very well.
It this context also the name of Austrian Fuchsia breeder, Karl Nutzinger, should be mentioned, who used for his breeding work Triphyllas. Varieties such as Elfriede Ott, Erika Koethe, Franz Noszian, Schoenbrunner Schul Jubilaum or President Walter Morio are still known by passionate fuchsia growers.
It was in 1987 the wellknown British Fuchsia breeder E. Goulding with the introduction of variety Our Ted also made a white hybrids for friend of Triphyllas available.
Also from other long tubed wild species which aregenetically compatible with each other a number of very interesting hybrids have emerged.
The Basic count of gamets in the genus Fuchsia is n = 11. But 2n and higher counts are possible and common, if you have a closer look at the members of section Fuchsia. There are also some hints with these, as breeders have first solve a problem to double up these counts.
Some Dutch Fuchsia breeders, such as H. Waldenmaier and T. Koerts have in recent years specialized in developing attractive lang tubed interspecies hybrids.
A trial exhibitioin in Wisley Gardens/UK which happened in 2008 pointed out clearly the benefits and possibilities of these fuchsia group. I feel that those plants should be seen more often in our gardens to be found! Here is a link to the cvs list of the exhibition.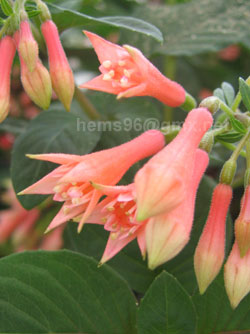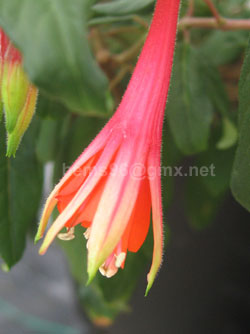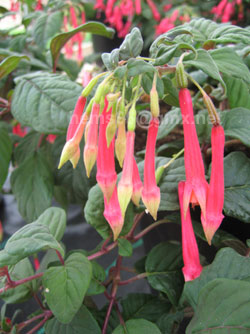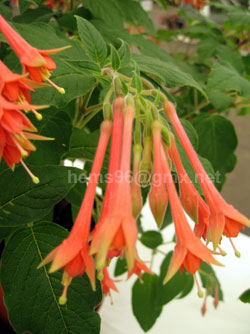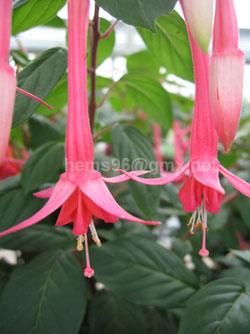 Unlike the usual fuchsias cvs they have in the initial shooting phase after a leafless winter periode a very high demand of nitrogen to be able to produc enough leaf material. You should, however, after the first blooms get visible on the plant change feeding to a more balanced fertilizer for flower developement.
If you are going to pinch out the main shoots to produce more bushy plants always have in mind that Triphyllas need - compared to other Fuchsias - more time to set new flower buds.